Discover the Vortex Powerfan S-600 340 CFM 6" Inline Fan
Vortex Powerfan S-600 340 CFM 6" Inline Fan is the quietest inline duct fan on the market, the vortex s-line is completely different from the competition, and specifically designed for the indoor grower. Suitable for green rooms / grow tent (hydroponics), hospital rooms, commercial cooling and industrial applications.
Carbon filters with built-in 6" flange and an antibacterial pre-filter included. It comes with an Aluminum top and bottom to reduce weight and increase ease of installation. 51% perforated open area for maximum airflow. 1.8" bed depth of pure virgin activated Australian lightweight granular carbon. Large selection of sizes to meet all your air filtration needs. Eliminates some of the most undesirable odors, pungent smell and particulates from indoor grow tent, hydroponics grow room.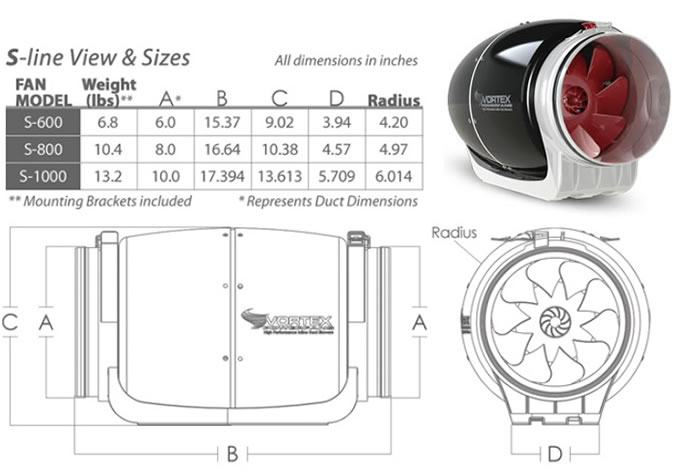 Technical description :
Detailed Description:
Product Dimensions: 15.37" x 6" x 9.02" - 6.8 lbs

Powerful, compact and quiet mixed flo impeller

100% speed controllable

May be mounted in any position

Suitable for airstream temperatures up to 140ºF (60ºC)

Prewired with 120V power cord

Energy efficient variable speed motor

Fan and motor are precisely balanced for a quiet and vibration-free operation

ETL listed

AMCA air listed

Item model number: S-600
Model 6 x 16
Recommended Maximum CFM 400
Flange 6"
Outside Diameter 9.5"
Height 16 in 40.5 cm
Weight 9.9 lbs
Carbon Bed Width 1.8" (46mm)
Recommended Fan VTX600L, S-600, VBC600
Pressure Drop at Max CFM 125pa/.0.5"wg
Package Includes :
1x Vortex Pro-Lite Filter 6" x 16" Carbon Filter
1 x Vortex Powerfans S-600 340 CFM 6" Inline Fan
1 x Power Cord
1 x
Easy to install-mounting brackets
All Vortex PRO-lite products come with a PREfilter included.
All Vortex PRO-lite have a Max Operating Temperature of 175ºF