*Please kindly note that: Discount coupon can not be used on this special offer grow kit.
ECO Farm grow kits are simple to set up and makes it easier to begin growing.

The first benefit of buying a ECO Farm Essential grow tent kit is that it's compact. Even if you have a small apartment with little closet space, you can set up a Essential grow kit there.

ECO Farm Essential grow tent kits are moveable, so you can take them with you wherever you go. This is especially useful because grow tent kits are a big initial investment. Being able to pack up them up with you saves costs of setting up a new growing operation.
Grow Light: Featuring a user friendly "Full Spectrum" design, you can easily grow your plants in any growth cycle required like germination, seedling, veg, flower.
Ventilation Kit: The complete combo for odor elimination. As the high flow inline duct fan passes through the tiny honeycombs of the charcoal filter, odor molecules and other harmful substances are then trapped within the carbon, while clean air passes through the filter and exits.
Grow Tent: 96% highly reflective waterproof diamond mylar (enhance the reflective effect). 600D high-reflective Diamond Mylar, large heavy duty zippers & double stitching for protection against light leaks.
The ECO Farm QB Pro Series LED grow light will replace 1000W HID or high power grow light bar while only drawing less watts at the wall and lightweight!

Each ECO Farm QB Pro grow light is designed with knob dimming, use LM301B chip and can independently controlled UV&IR.

High-efficiency custom-designed white light quantum boards with Samsung LM301B and UV SEOUL 395nm IR OSRAM 730nm Far Red.
Enhanced 3500K white-light full spectrum for optimal canopy penetration and easy viewing.
Ideal for seedling to harvest growth.
Reliable passive-cooled design (no cooling fans required).
Optimal canopy penetration with diffused light via a large form factor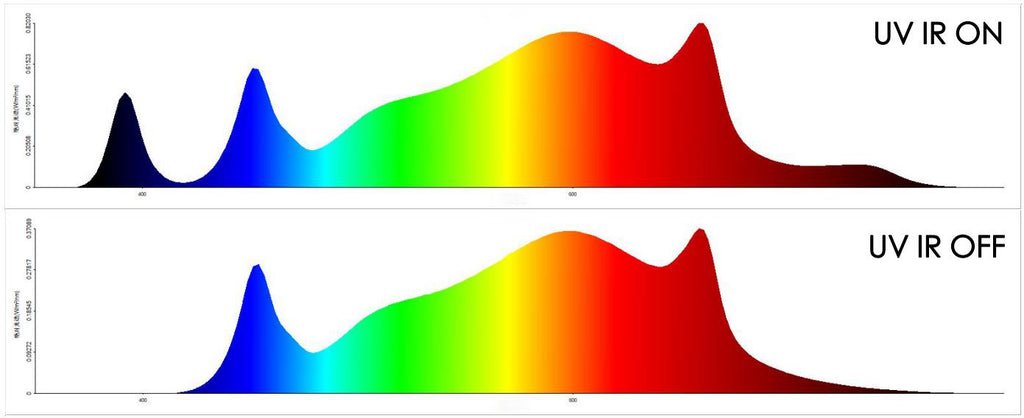 ECO Farm grow tent has all stable construction, 600D oxford cloth outside and 96% highly reflective waterproof diamond Mylar inside, with exterior zippers design ensure safety use and easy to set up. And it also has multiple vents to accommodate fans and filter. Great for you to grow exotic fruits, herbs, vegetables or seasonal fruits out of season. We promise to provide you with the highest-quality hydroponics equipment and services at our factory-direct prices.
60"x60"x80" grow tent: 5ftX5ft (150x150x200cm)
Inside: 96% highly reflective waterproof diamond Mylar(enhance the reflective effect)
Large heavy duty Zippers & Double Stitching for protection against light leaks.
Outside: heavy duty 600D lightproof oxford cloth
Frame: diameter 16MM white paint coated metal rods
Connector Material: 16MM (diameter) sturdy plastic connectors
Rectangle vents with mesh for better ventilation
Multiple vents for fan and filter output
Quick tool-free installation
PACKAGE INCLUDES:
Grow Light: 1x480W LM301B Quantum Board, 1xHanging Kit, 1xPower Cord
Grow Tent: 1x 5'*5' Grow Tent
Ventilation Kit: 1x6" inline duct fan, 1x6"*12" carbon filter, 1 pair 6" metal clamps, 1x6"*16' flex ducting
Accessories: 1xScissor, 10-pack 5 Gallon Grow Bags, 1xEye Protect Glasses
MANUFACTURER'S WARRANTY:
3 years

1) Eco Farm is a top-trusted online retailer offering honest grow advice and top-of-the-line LED grow lights and other grow/harvest/extraction equipment.
2) Reliable International Shipping Available
Nearly all of our products can be shipped internationally using DHL or similar couriers.
3) 100% Quality Guarantee
You will buy confidently from us since only sell new, official products (no used items or clones).
4) Safe, Secure, Discrete Transactions
All card payments are processed through our encrypted SSL security processing system. Your identity is always protected.
5) Hassle-Free Returns
And just in case your purchase was not up to your standards, we offer return if you are not 100% satisfied for any reason.